Montana Tech
Calligraphy
,
Graffiti
,
Street Art
,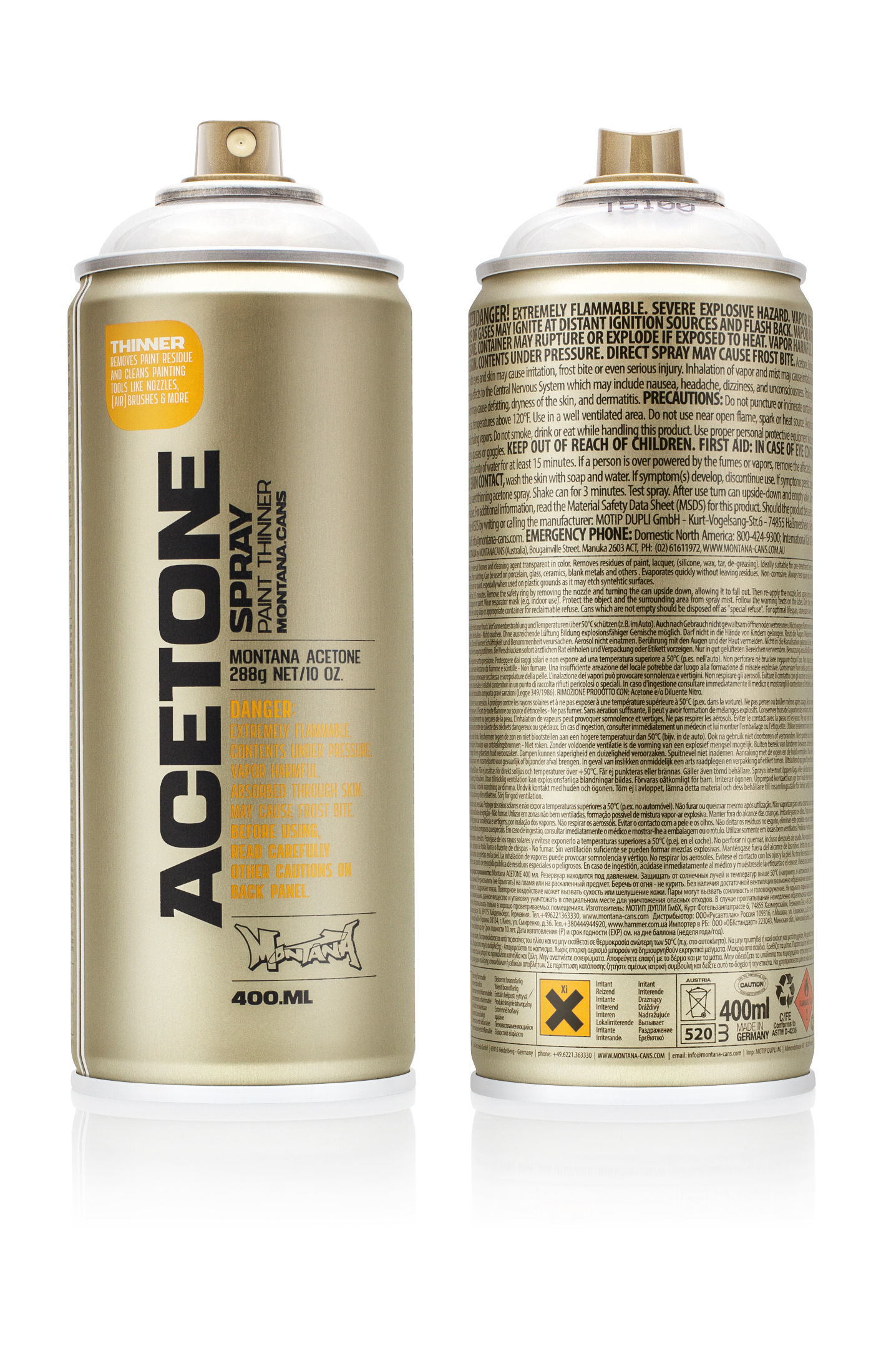 Montana ACETONE spray is a universal thinner and cleaning agent that is transparent in color. Removes 
residues of paint, lacquer, silicone, wax, tar, and can be used for de-greasing. Suitable for pre-treatment 
before painting objects or to remove paint residues after painting. Can be used on porcelain, glass, ceramics, 
blank metals and others. Evaporates quickly without leaving residues. Non-corrosive. Acetone can be 
applied in many practical and creative contexts. Traditionally in the aerosol art community, it has been used 
for years as a cap cleaner enabling users to remove paint residue from spray nozzles, bringing them back to 
their original state to produce clean lines.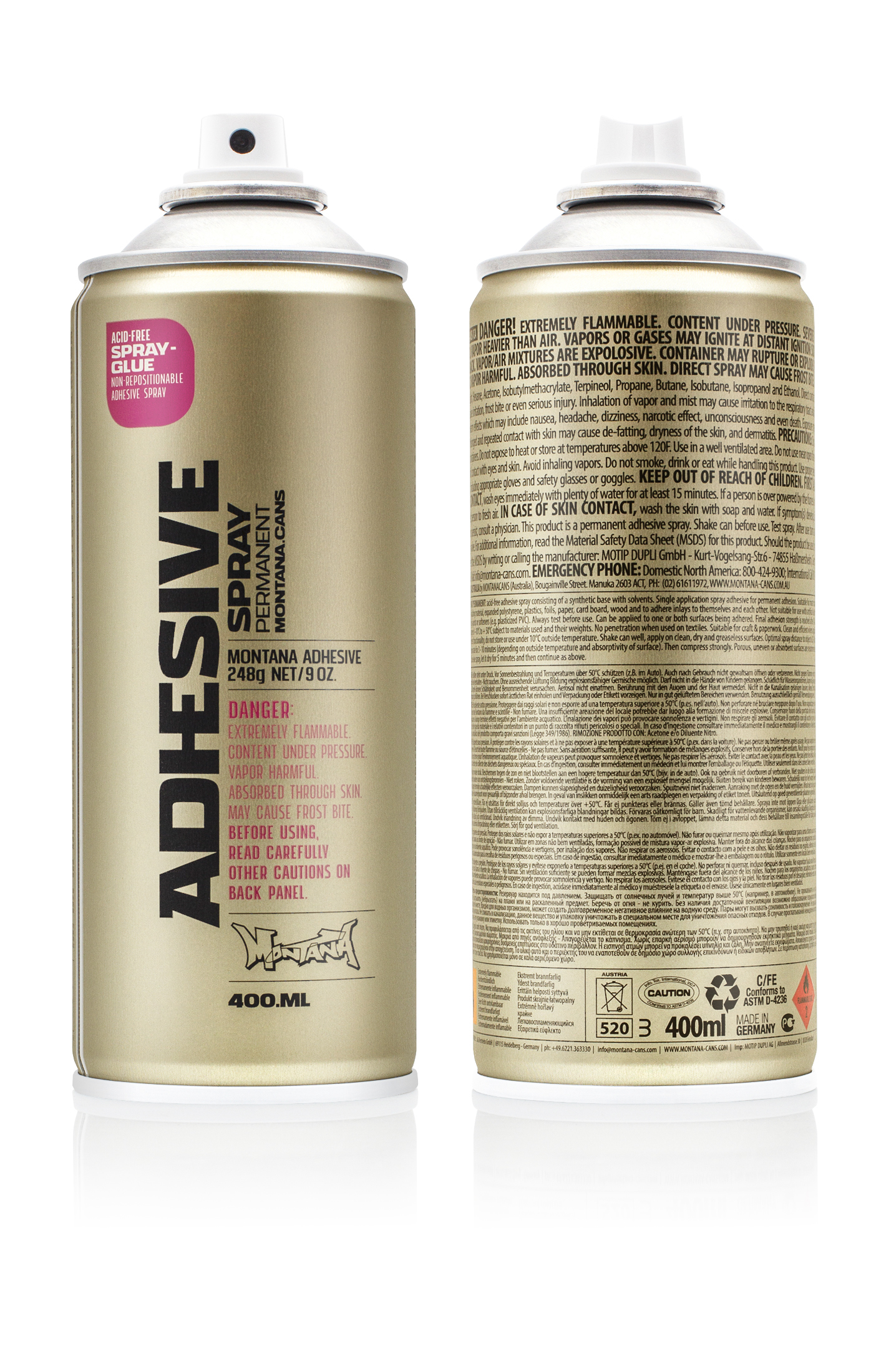 Permanent / Repositionable
Montana adhesive spray is a acid-free spray glue consisting of a synthetic base with solvents for permanent adhesion. 
Suitable for most materials like foam, jute, felt, textiles, insulating material, expanded polystyrene, plastics, foils, 
paper, cardboard, wood and to adhere inlays. Not suitable for use with artificial leather or other materials with plasticizing 
agents or softeners (e.g. plasticized PVC). Always test before use. Can be applied to one or both surfaces to be 
adhered. Final adhesion strength is reached after 24 hours. Can be applied in a temperature range of -10°C (14°F) to 
50°C (122°F) subject to materials used and their weights. Does not bleed through when used on textiles. Suitable for 
craft & paperwork. Clean and efficient when applied over small or large areas. Available as 400ml and 150ml. 
Montana adhesive spray repositionable allows repositioning and re-application for textiles and other materials such as 
foam material, photos, paper, cardboard, wood, plate and expanded polystyrene (to a limited extend). Not suitable for 
use with artificial leather or other materials with plasticising agents or softeners (e.g. plasticized PVC). Adheres inlays to 
each other. Always test before use, especially when used with heavy materials.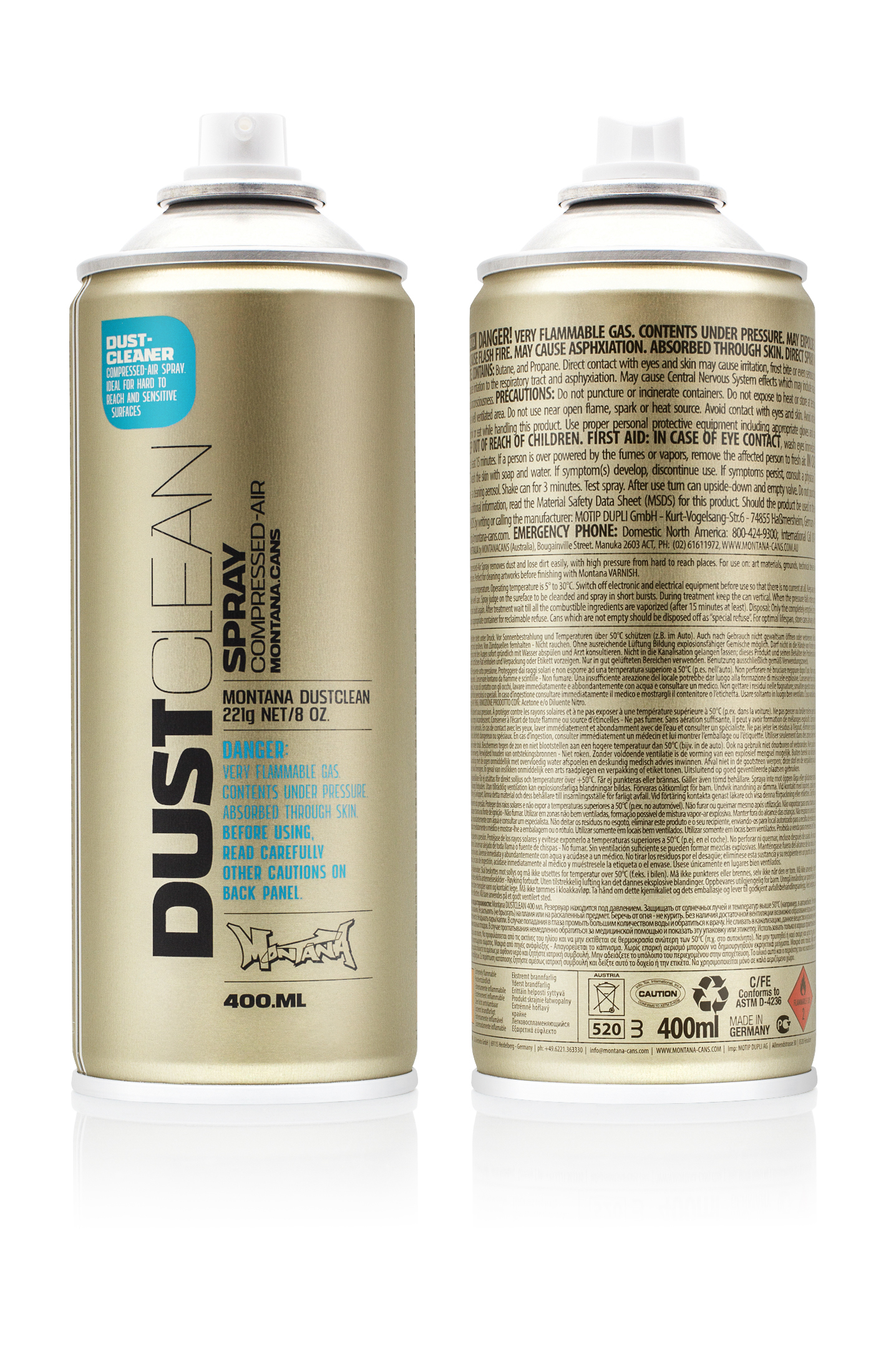 Montana DUSTCLEAN spray is a compressed aerosol spray for the easy removal of dust and loose dirt from 
sensitive or hard to reach surfaces, using high pressure. This spray can also be used to clean objects prior to 
final sealing – with varnish for example. The strong, direct spray output cleans effectively, perfect for interior use.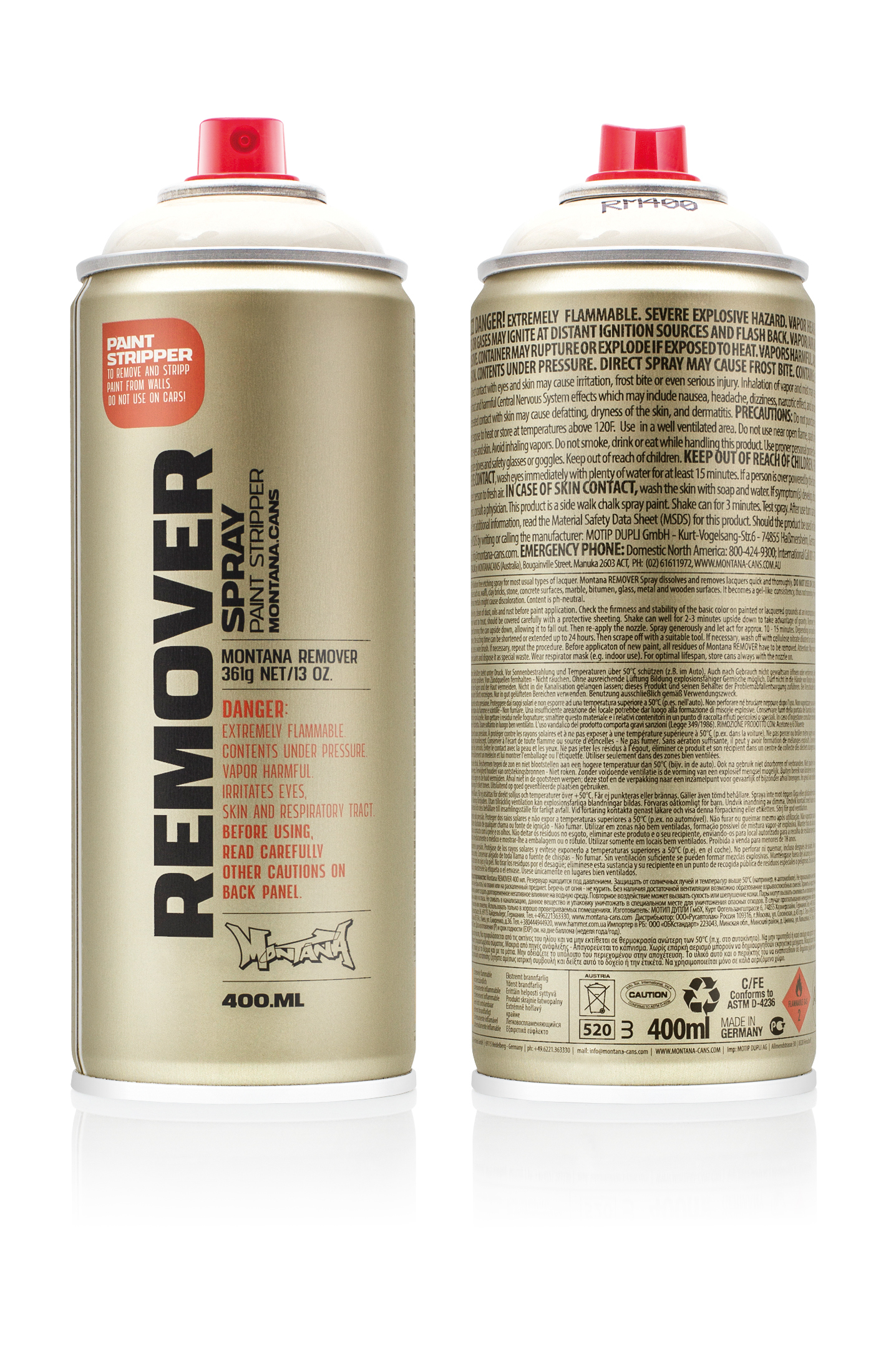 Pollution free etching spray for most usual types of lacquer. Montana REMOVER spray dissolves and removes 
lacquers thoroughly. Do not use on cars! Application is possible on many surfaces such as walls, clay 
bricks, stone, concrete surfaces, marble, asphalt, glass, metal and wooden surfaces. It becomes a gel-like 
consistency, to keep from running off vertical surfaces. Application on non-ferrous metals might cause discoloration. 
Content is ph-neutral / acid-free. 
Grey texture spray to generate sculptured impasto surfaces. Suitable for creative works of all kinds, as well as filling 
material to patch up small irregularities such as cracks, holes or as a foundation. Applicable on many different surfaces 
such as wood, glass, stone, ceramics, porcelain, acrylic and other non-elastic surfaces. By spraying your object with a 
thick layer of the TEXTURE spray, the foundation will be coated with a high-grade, well adhering substance that can be 
molded while wet to achieve the desired structure. The structure spray can be wet sanded after a very short drying time. 
After thoroughly dry and cured, TEXTURE spray can be top-coated with many common lacquer types. The TEXTURE 
spray has good adherence and is highly water resistant. TEXTURE spray offers a high layering and thick filling capacity 
due to excellent paint stability. TEXTURE spray offers increased anticorrosive protection to the surfaces it is applied to.
Acid-free, quick drying, clear varnish made of acrylic base. No yellowing or de-saturation. For interior and exterior 
use. Can be used for art, hobby, crafts and DIY projects. Available in gloss, semi-gloss and matte finish. Gloss level 
shown on donut (see top of can). Protects and fixes paint on surfaces like canvas, paper, charcoal drawing, bast 
fibre, wood, photos, etc. Protects against oxidation. 
Professional Surface Treatment
Montana PRIMER sprays enable excellent adhesion and further coating of synthetic, nitro-combi or acrylic-based spray 
paints. Montana offers different primers for application on different surfaces that need to be pre-treated such as plastic, 
metal and styrofoam. The Universal Primer also works on leather, cardboards, wood and many other materials. After the 
Primers have been applied you can work with Montana spray paints on the pre-treated area. Use Primers for efficient 
and more permanent results. Easy to apply, sand and re-coat. Please ensure that foam surface is completely sealed 
and all air pockets closed. This can be achieved by applying multiple thin even coats. Open air pockets may lead to 
paint solvents agitating the foam. For indoor and outdoor applications.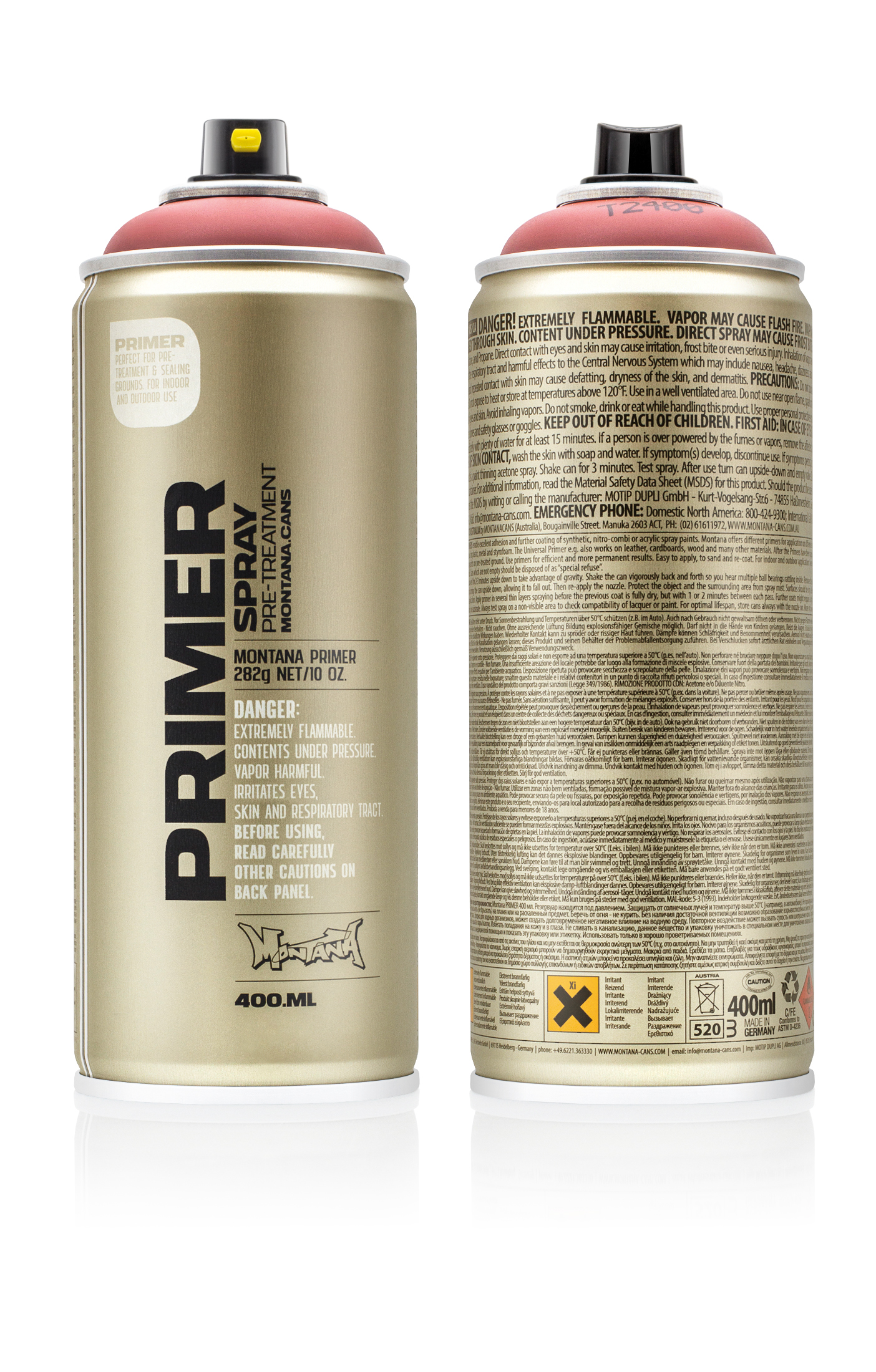 The Montana Metal Primer - a quick drying primer for the perfect pre-treatment of metal surfaces 
that need to be protected from rust. The primer can be used on metals like iron, steel 
or mineral surfaces. Montana Metal Primer can be used on Montana sprays with a synthetic, 
acrylic, or nitro-combination base.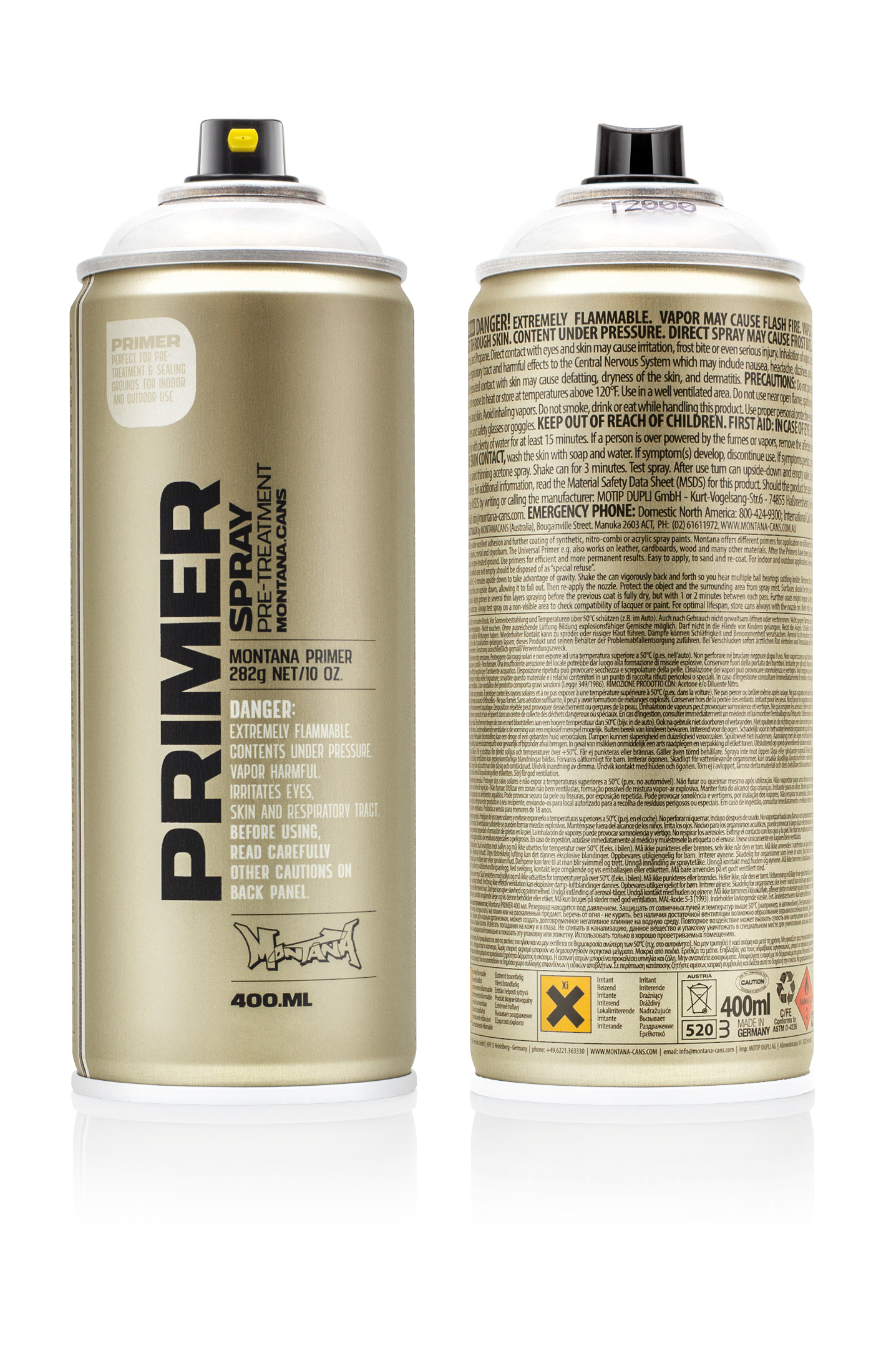 Montana Plastic Primer is the perfect pre-treatment for plastic surfaces. After priming and 
drying, plastic surfaces can be painted with Montana sprays that have a synthetic, acrylic, or 
nitro-combination base.
 Can be used with the following types of plastic: 
polypropylene rubber, modified (EPDM), 
Acrylic Butadiene Styrene Plastics (ABS), Glass-Fibre Reinforced 
Plastics (GfK), Hard Polyvinyl Chloride (Hard-Pvc), 
Polyurethane (PUR), Polystyrene (PS), Polyamide (PA)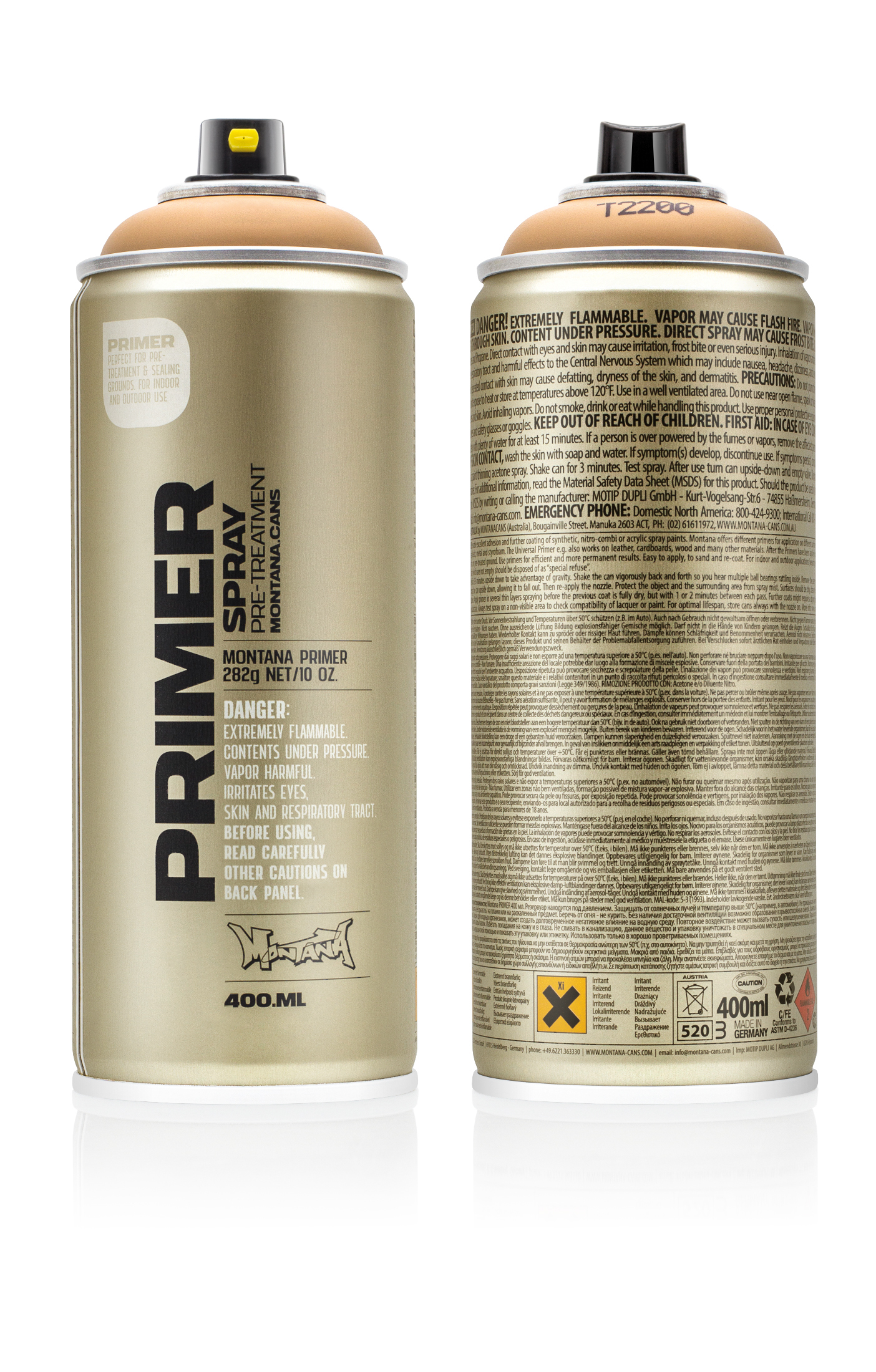 The Montana Polystyrene Primer provides an additional (protective) layer on Polystyrene, 
allowing later application of varnish and acid free paint to be possible. The primer seals the 
styrofoam and protects against reactions from paint lacquer. Always test before using on a 
non-visible area of the object.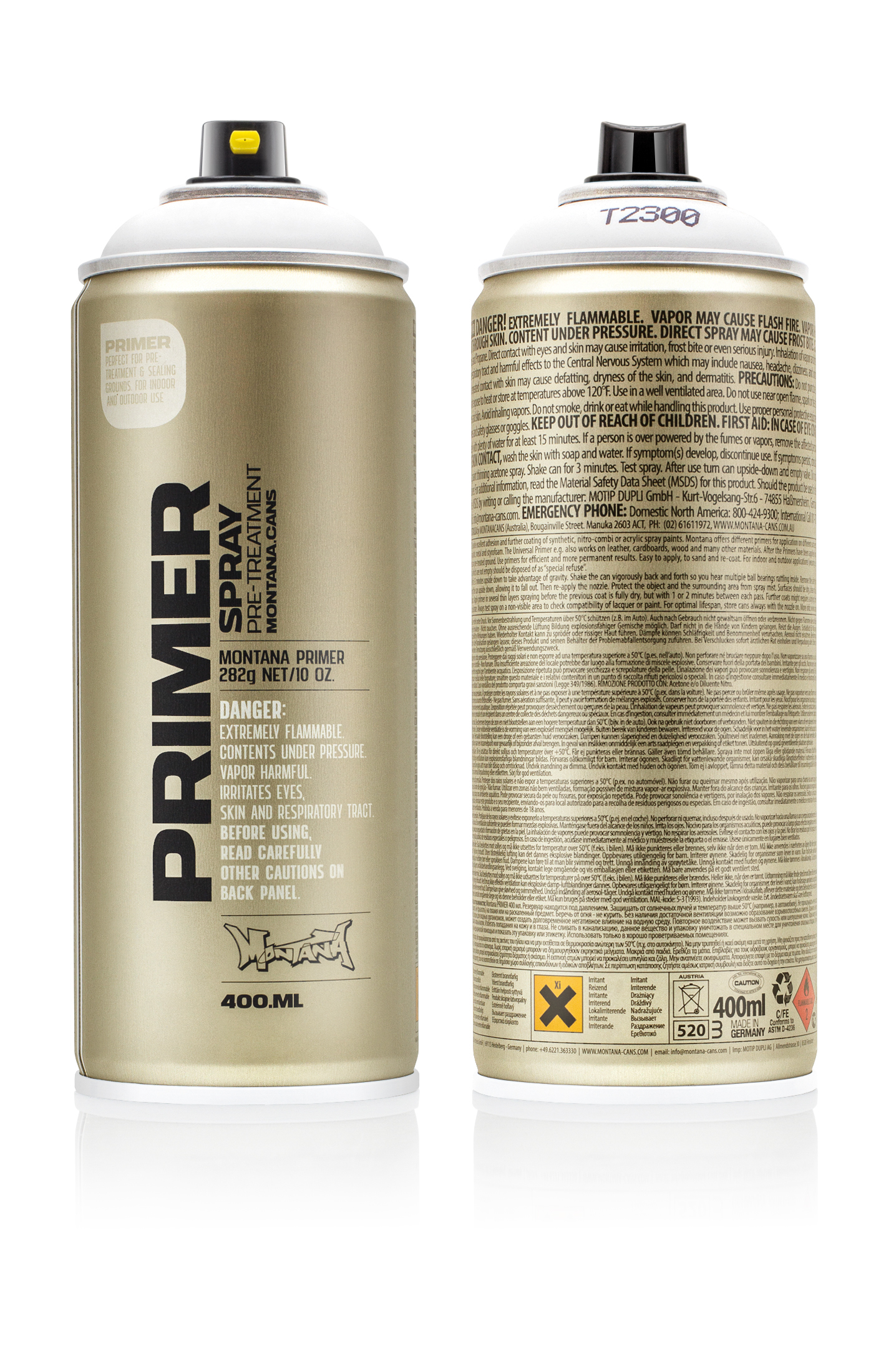 The Universal Primer also works on leather, cardboards, wood and many other materials. 
After the Primer has been applied you can work with Montana spray paints on the pretreated 
area. Easy to apply, sand and re-coat. For indoor and outdoor applications.