Accessories - Merchandise
Calligraphy
,
Graffiti
,
Street Art
,
The design is based on our Montana BLACK can and it stores up to 4 gigabyte of your files. It comes in a miniature cardbox just like the original Spray cans and is available in four BLACK colors: Tiffany, Melon Yellow, Lollipop und Knockout Blue!
​​​​​​​
Montana Cans True Tone Colors
With this premium tool, artists, architects and creative professionals are able to make accurate color choices with optimal results in the development and conception stages of their work. Covering the full Montana GOLD range, TECH sprays, EFFECT sprays and Montana Level Caps, the swatch is practical and concise in a format that is handy to use in any context. Packaged in a beautiful gold/clear pvc box, you can keep your swatch protected and clean to extend its lifespan in the field.
DISCLAIMER: 
This is a Montana GOLD true tone color swatch. Although every effort has been made to check, mix and print colors as close to the original as possible, printing and paper limitations may create slight variations from the actual color. It is always recommended to test spray and compare colors in advance. Montana GOLD has a semi matt, to satin finish that may vary from color to color depending on pigment contents. Montana GOLD is an independent color system without any relation to other color systems like RAL or PANTONE.
The colors in this guide may change subject to it's exposure to the elements. To minimize fading or color change, avoid prolonged exposure to UV light. This guide should be replaced periodically to maintain color accuracy.
The new Montana Cans Short Lanyards continue the tradition of being discrete and aesthetic. This time round there are two new colors black or green, sporting the new Montana Cans Typo-logo. The short cords allow for easy handling with no unnecessary bulk in your pocket or bag . Complimented with silver key chain you are sure where your keys are at all times.
Montana "HELLO MY NAME IS" Sticker
The traditional "Hello My Name Is" sticker is back with an old school twist. This time round we re-visit the classic sticker colors red and blue. Shrink wrapped in packs of 100 per color, the packs also still include the luscious 4mm permanent round marker with is deep black, juicy ink. Each marker barrel is printed red or blue in connection to the corresponding sticker color chosen.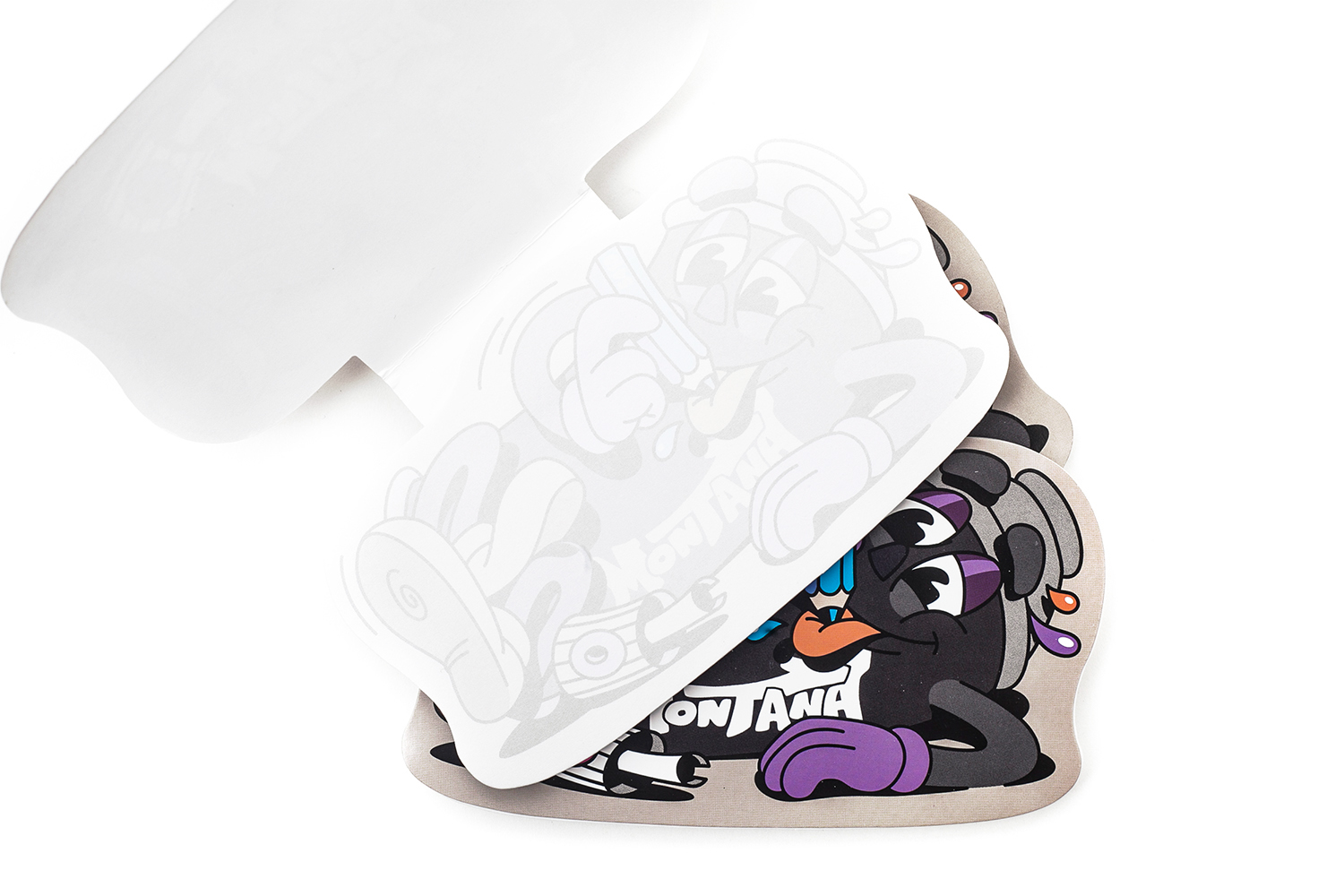 Protection Tools "Safety Wear"
Regardless of what sort of paint an artist is using, it is important to think long term and consider your health.
Clean while handling paint and painting tools to prevent absorption of foreign entities into your skin.

Stay safe and enjoy your art making long term.
These black Latex Gloves have a special micro grip system on the palms for perfect, non-slip handling of cans. Available in sizes: S-XL. Talc-free.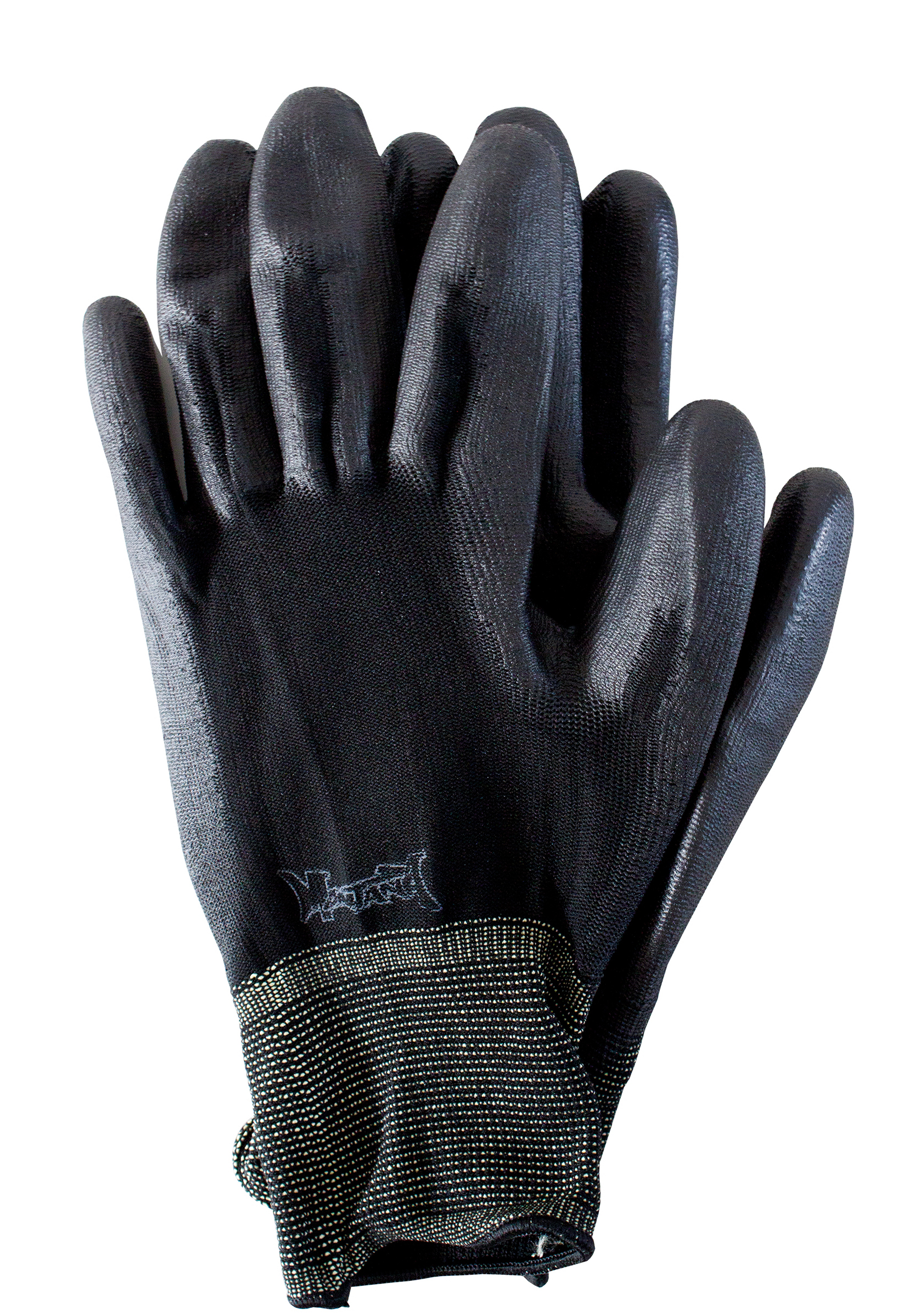 The Montana Nylon Gloves is the perfect reusable protection glove. 
Made out of anthracite woven nylon with a "polyurethane (PU)" coating.
The new Montana Nitril Gloves Black are 100% synthetic, latex and powder-free. The textured surface not only allows for extra grip, it is also soft so you can stay comfortable and protected for longer periods. Nitril gloves are a cost friendly alternative to latex able to keep your hands protected for indoor or outdoor use.